So today after only being home for an hour Wes was called back to work. With this
outrageous
heat we have been having it make transformers blow up all the time which leads to no power, and when people have no power they sometimes get a little cranky. So since Daddy had to leave Logan and I continued our night by eating some carrots.
Yuummmmyy
! I love my son very much, and this is why I really hope I can get over my HUGE dislike of baby food. It is just so gross and when they are young it just seems to get
EVERYWHERE
! Oh and how I love when I am feeding him and he sneezes and then it also is all over me! yuck! yuck! yuck! So I lately just feed him naked and then I don't have to worry about it being all over the clothes, I just have to throw him in the tub!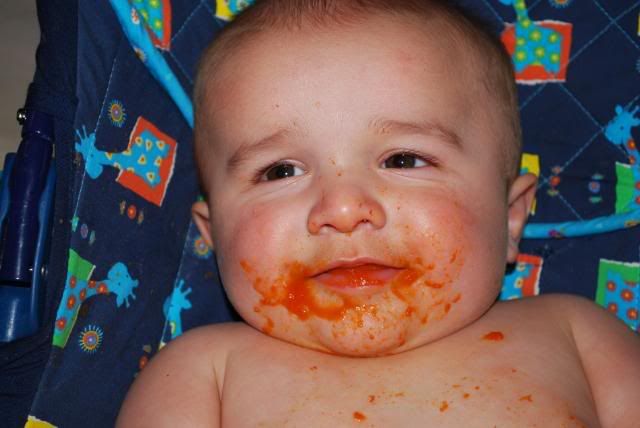 And as you can see, he can't keep his fingers out of his mouth. So of course carrot juice is all over them and then he
wants
to grab everything.. Oh i cringe just thinking about it.
So then we get in the bath. A time that we both love. He sits in there kicks, laughs and smiles... until I get the camera!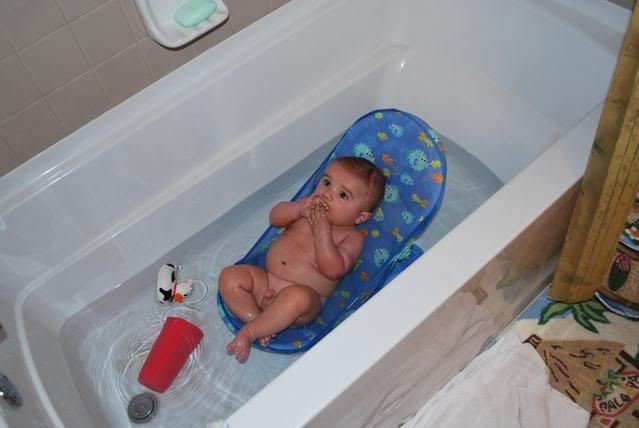 well this is my boy and he is only going to keep on growing and also keep on eating which means I really need to get over this baby food thing, FAST!