So Wes turned 36 on August 9
th
. He is always so hard to get any information out of. I had been asking him for weeks what he wanted to do and I always got the same response; " I don't care, you pick." Well it wasn't my birthday so I didn't want to pick, and since last year he had been
diagnosed
a week earlier with cancer I really wanted to do something fun this year. So finally last Wed. after me calling him all day he said "Let's go to Sea World". At first I laughed and then I asked if he was serious. And he was. So I bought the tickets
thru
work because they are cheaper and a better deal and then I booked us a room because the San
Diego
house has people in it and we were set. Just so you know I haven't been to Sea World in about 10 years so I was a little excited to go. We have been talking about going for the last two years but never got around to it. So we get off the freeway, pull up to the entrance and HOLY HELL, everyone and their mom decided to go to Sea World on Saturday.
Grr
. I hate crowds and lines and waiting. Oh and I hate that half of them don't speak
English
. Anyway, I figured oh well and let's just make the best of it because we can come back again before May 31 of next year for free. So we did. But we were only able to see one show because of all the people and it was hot and Logan wasn't a big fan of all the yelling and clapping.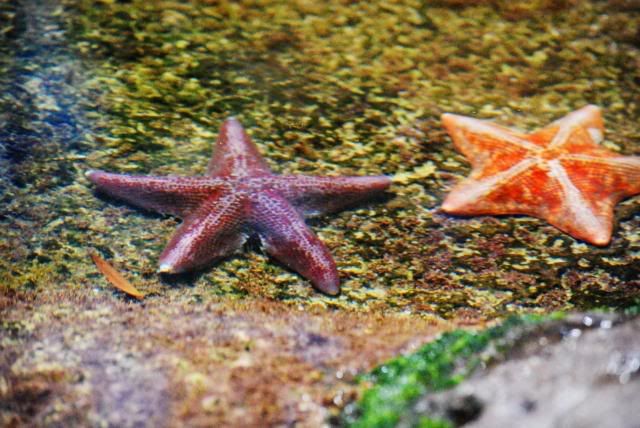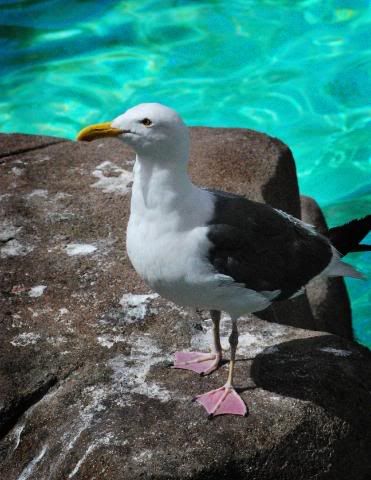 You gotta watch out for these guys, they like to do "dive bomb missions" and steal the fish.
And here is my baby on the way home, sleepy guy.
I have more, but I'll post later.
Oh and Fran tagged me the other day so here are 6 words to describe my family.
6. faithful.
so anyone else who reads this, well you have been tagged
.